In Retro - The Glamorous 40's
"Retro" jewellery as we know today, was a term coined by Francois Curiel, head of the jewellery department at Christie's New York in the 1970's to distinguish jewellery produced in the late 1930's to 1950's from contemporary jewellery. As the world felt the ravages and changes brought about by World War II, jewellery designers in Europe and America responded by creating jewellery that was bolder, brighter and more exuberant. To complement the austerity of wartime fashions and to assuage the sombre mood felt during the war, jewellery designs became more curvilinear and featured motifs that were feminine and lighthearted; a striking difference from the Art Deco style.
Platinum was scarce and gold became the metal of choice. Materials for new jewellery were hard to come by and many people sent their old jewellery to be refashioned. Jewellers came up with ingenious ways to create a "bigger look for less" and commonly used highly polished low karat gold alloys, in yellow, rose and green; setting them with large colourful gemstones such as amethysts, aquamarines, citrines and topazes. As designers looked both to the past and future for inspiration, bow and ribbon brooches made a huge resurgence, albeit in sculptural and larger forms. Sunburst and floral motifs of the Victorian era were boldly reinvented, often applied to large clip-on earrings. Modern tank treads and assembly lines were translated into chunky bracelets that were ahead of their time. Whimsical charm bracelets, as well as cocktail rings in bombe and boule style were all the rage. Gold was manipulated in a multitude of ways; tubogas, woven, braided and coiled. The convertible jewellery trend - necklaces, bracelets and double clips remained highly popular well into the 1960's.
From L - R: An 18K Yellow Gold and Diamond "Moineau" Clip Brooch, by Rene Boivin, 1945 (Available at www.revivaljewels.com); A Retro Yellow Gold Necklace, by Fred, circa 1940's (Available at www.revivaljewels.com); Retro Amethyst and Gold Earrings; A Retro Diamond and Pink Gold Bow Brooch, by Tiffany & Co., 1940's (www.revivaljewels.com); An 18K Retro Yellow Gold "Tank Track" Bracelet, circa 1940's (www.revivaljewels.com)
Cartier, with Jean Toussaint at its helm, started moving away from Art Deco and began creating figurative work in the late 1930's. Always at the forefront of fashion, she was one of the first to bring yellow gold back in fashion. Toussaint felt that jewellery needed to be based on joy, and created a series of whimsical birds that Cartier became known for. Flamingoes and parrots were her favourite. In 1940, the house introduced a caged bird, a symbol of resistance against the Nazi occupation. Days after the liberation of Paris, a version with a bird poised for flight, with the cage door open, appeared in Cartier's windows. While touring in Africa, Toussaint came across panther and was inspired to create the first "Panthere" brooch for the Duchess of Windsor.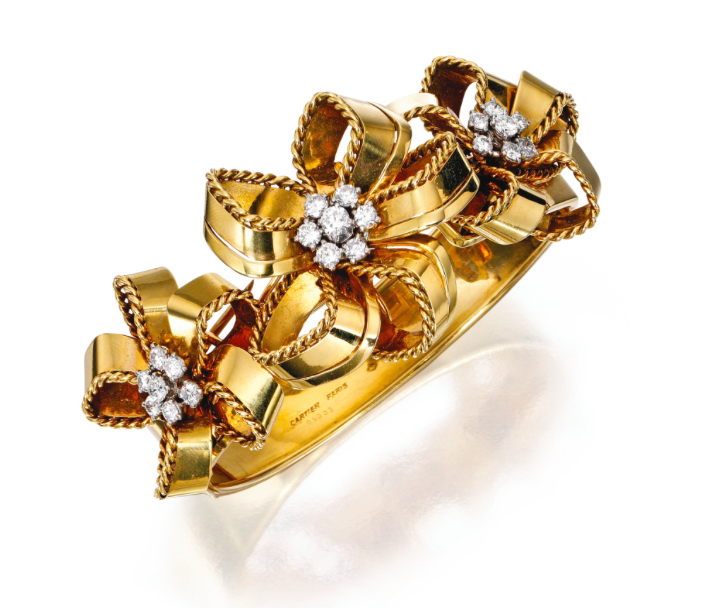 From L to R: The Duchess of Windsor wears her Flamingo Brooch, by Cartier; Bird in a Cage Brooch, by Cartier; A Gem Set and Diamond Brooch, by Cartier, 1940's; An 18K Gold Clip and Bangle-Bracelet Combination, Cartier, Paris, circa 1940; An Aquamarine, Diamond and Rose Gold Bracelet, by Cartier, 1940's; A Gold Panther Brooch, 1940's; A Gem Set Bird Brooch, by Cartier
Van Cleef & Arpels invented the mystery setting in 1933, and went on to introduce the iconic Ludo Hexagone - an articulated ribbon of small hexagones, in 1935. The design was mostly applied to bracelets and watches, and matching double clips and earrings. An incredible success, it was produced until the 1950's. Equally emblematic Van Cleef & Arpels pieces included the Pivoine Clip - a double clip in the mystery setting, the revolutionary Zip Necklace - first commissioned by the Duchess of Windsor as a tribute to the newly invented zipper; the Passe-Partout Necklace, and the Ballerina and Fairy collection of clips. The Hawaii Collections, a series of small clips and rings, with the patriotic colours of red, blue and white proved to be popular during and after the war.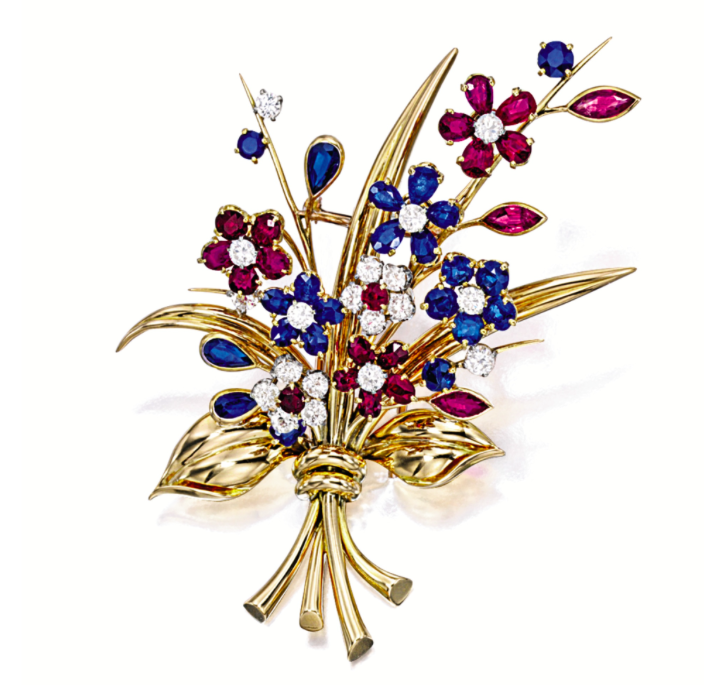 From L to R: A Gold and Ruby Ludo-Hexagone Bracelet, by Van Cleef & Arpels and The Pivoine Clip; Spirit of Beauty Fairy Clip in Platinum Set with Rubies, Emeralds and Diamonds, circa 1944; The Passe-Partout Necklace in Sapphire, Ruby and Gold, which can be detached to be worn as bracelet, belt and clips; A Ruby, Sapphire and Diamond "Hawaii" Brooch, by Van Cleef & Arpels, 1940's; A Cadenas Watch, by Van Cleef & Arpels, 1935; Ballerina Clip, by Van Cleef & Arpels, 1943; A Drawing and Gold Zip Necklace, by Van Cleef & Arpels. The necklace is detachable into a bracelet, 1951.
Hollywood glamour was at its peak and actors and actresses were setting the trends and fashion for the masses, instead of European royalty as before. Jewels from American jewellers such as Paul Flato, Trabert & Hoeffer - Mauboussin, Verdura and Tiffany & Co. were worn by celebrities both on and off screen. To escape the war, many European jewellers had emigrated to America, setting up their businesses amidst the booming economy. The import of European jewellery making techniques helped American jewellers take their creations to a higher level.
From L to R: Joan Benett, wearing her collection of Flato clips; Doris Day, in a striped t-shirt, blazer over shoulders, wearing chunky necklace and a brooch, Merle Oberon, wearing a necklace resembling the Passe-Partout by Van Cleef & Arpels; Joan Crawford, making a statement with a floral dress, wearing a large pendant and chunky bracelet; A Pink Topaz Flora and Fauna Motif Clip Brooch, Verdura; A Diamond and Platinum Double Clip Brooch, by Trabert & Hoeffer - Mauboussin, circa 1940; A Citrine and Gold Necklace, by Fulco di Verdura; A Suite of Jewellery, by Tiffany & Co., 1940's
Once the war had ended, jewellery reverted to a more understated and traditional look. Platinum was widely available again and the marketing work by De Beers and Harry Winston saw an increased demand for diamond and platinum jewellery. Jewellers continued developing their pre-war designs, and 1950's jewellery featured more spirals, textures and flourishes. By the swinging 60's, Retro jewels went entirely out of style. Today, Retro jewellery is still very much loved and collectible as they represent a unique and exceptionally creative period in history; and their versatility and timelessness lend an interesting twist to contemporary dress.