Nécessaires and Minaudières - A Lady's Vanity
The roaring twenties saw a tremendous increase in the independence and mobility of females. Fashionable women in society bobbed their hair, raised their hemlines and were easily seen holding a cigarette and applying copious amounts of makeup in public, which before, was only considered acceptable if the women happened to be actresses or demi-mondaines. Women relished and asserted their newfound freedom by indulging in newly invented cosmetics. Pale creamy skin, thin eyebrows drawn in a downwards curve, kohl lined eyes, thick lashes and a scarlet pout was the look in vogue. Ladies spent much time powdering their faces and perfecting the cupid bows on their lips.
Jewellers started designing intricate and elegant nécessaires to house a woman's cosmetic treasures and personal items. These beautiful objects were frequently on display and became yet another jewelled accessory to complement one's evening look. Major jewellers such as Cartier, Van Cleef & Arpels and La Cloche Frères created some of the most exquisite vanity cases ranging from minimalistic plain gold cases set with gems to heavy ornamental cases with a strong Oriental theme. Chinese symbolic signs, landscapes, dragons, buddhas and enamelled flowers, Japanese chrysanthemums and peonies, and Persian mosaic tiles and tapestry were translated onto these boxes via an array of materials such as jade, onyx, coral and other precious gemstones.
An Onyx, Enamel, Coral and Diamond Vanity Case, by LaCloche Frères, 1920s.
The circular case set to the front with four bevelled onyx plaques, the central shòu character and edges set with rose diamonds, to a twisted silk cord set with coral bead and rose diamond slider, terminating on a similarly set tassel with onyx beads, opening to reveal a mirror, lipstick holder and powder compartment, signed Lacloche Frères, numbered, French assay and indistinct maker's marks.
Photo courtesy of Sotheby's
Towards the 1930s, evening clutches became the de rigeur accessory for the evening when women started finding the handbag obtrusive and distracting from the sleeveless, low necklines and scooped-back dresses that were in fashion. A clutch became the perfect adornment, holding a few essentials while the ladies danced the night away. Charles Arpels was inspired to create the very first minaudière after a meeting with the modish Florence J Gould, who, in her hurry to leave the house, had simply thrown her lipstick, compact, and cigarette lighter into a large Lucky Strike cigarette tin to use as handbag. It was then coined "minaudière" and patented by Alfred Van Cleef as a tribute to his wife, whom he would often tenderly admonish for her tendency to minauder (simper). Subsequently, nécessaires, once simpler vessels containing one or two items, became an elaborate cabinet of curiousities. Compartments for powder, lipstick, comb, mirror, perfume, pen, lighters, and watches were crafted. These artistically and technically challenging works of art took various forms - oval, cylindrical or rectangular, and could also be attached to a ring or a lipstick case to form a handle.
An Art Deco Mother-of-Pearl, Enamel and Diamond Vanity Case, by Van Cleef & Arpels.
The rectangular blue enamelled case with black enamelled borders, designed as an Oriental mother-of pearl landscape, depicting a temple and trees with engraved gold trim, amongst billowing clouds, enhanced by rose-cut diamond geometric style trim and push-piece, opening to reveal a fitted mirror and covered powder compartment, mounted in 18k gold, circa 1925, 2¾ x 2 x 3/8 ins., with French assay marks and maker's mark. Signed Van Cleef & Arpels, Paris, nos. 29958 and 20.362. With maker's mark for Van Cleef & Arpels
Photo courtesy of Christie's
In our world of fast moving consumer goods today when almost everything is disposable, vanity cases now rarely come into play. The ones that have survived till date are precious pieces of art that allow us to relive the old days of glamour. Fine examples from the 20s and 30s are highly collectible these days, evident in the auction results they have been creating. Revival Jewels is proud to present some of these vanity cases that are currently available in our atelier.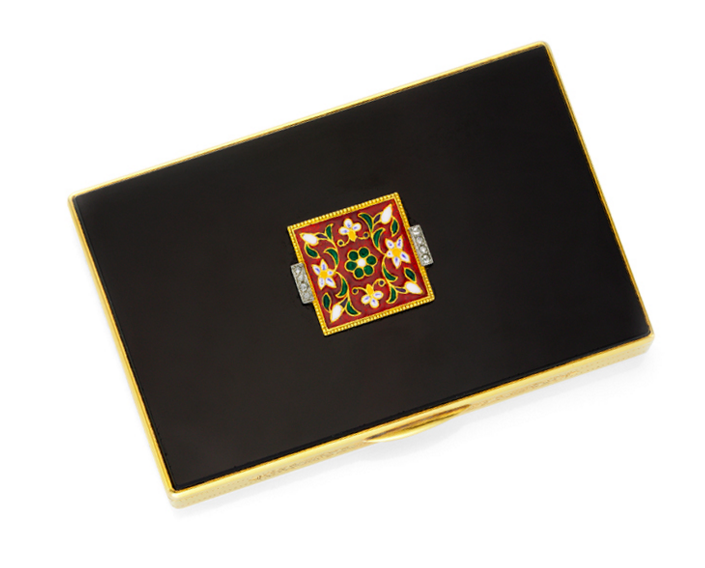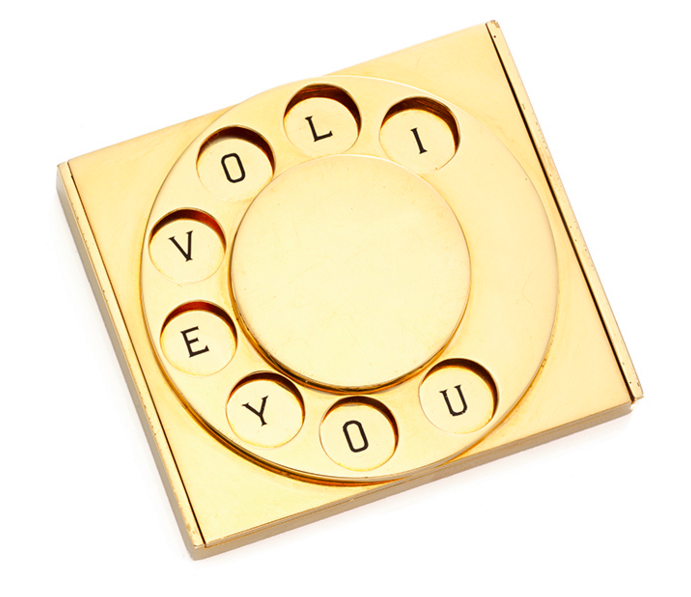 From L-R: A Gold, Pink Sapphire and Diamond Vanity Case by Van Cleef & Arpels, circa 1940s; An Art Deco Black Onyx, Enamel and Diamond Box, by Cartier, circa 1920; An Art Deco Gold and Sapphire-Set Cigarette Case, by Bulgari, circa 1930; A Gold and Enamel 'I Love You' Vanity Case, by Paul Flato, circa 1940; A Gold and White Enamel Vanity Case, by Bulgari, circa 1960.