Other Important and Highly Sought After French Jewellers
René Boivin
Founded in Paris during the 1890s by René Boivin, the House of Boivin is renowned for having created some of the most imaginative and extraordinarily made jewels of the last century. Their modern, sculptural designs and adroit use of coloured stones set them apart from many other jewellers and remain highly sought after by collectors.
The house frequently visited the themes of florals, fruits and animals in their designs, which always also featured their signature elements of elegant lines, twists and trembling components. Instead of creating Art Nouveau pieces in the 1900s, the firm came to specialise in their own unconventional style of jewellery. There were pieces, such as the 'Hallstatt', 'Merovingian' and 'Assyrian' series that were so avant garde, they did not become popular until years after they were introduced.
Some of the most iconic and daring designs were produced between the 30s and 40s under the leadership of René Boivin's widow, Jeanne Boivin, sister of famous couturier, Paul Poiret. With her immaculate sense of style and experience working alongside her husband, Jeanne, together with 3 other designers, Suzanne Belperron, and later Juliette Moutarde and Germaine Boivin, created some of the firm's most iconic pieces of jewellery.
Ostertag
Arnold Ostertag founded the House of Ostertag in the 1920s. Strategically located at 16 Place Vendôme, along with other major jewellery houses such as Cartier, Van Cleef and Arpels and Boucheron, Ostertag was renowned for its exquisite jewellery and objets d'art that drew on inspiration from Mughal decorative arts and its creations closely rivalled those of the other prestigious jewellery houses.
Together with jewellers such as Cartier and Mauboussin, Ostertag pioneered the style of 'Tutti Frutti', an elaborate assemblage of carved rubies, sapphires and emeralds of berries, fruit, flowers and leaves that intermingled with diamonds into an elegant piece of jewellery. Ostertag's objets d'art and decorative clocks made by the esteemed clockmaker, George Verger, are jewelled works of art.
With the onset of World War II, Ostertag closed it's doors in Paris and unfortunately did not reopen after the war.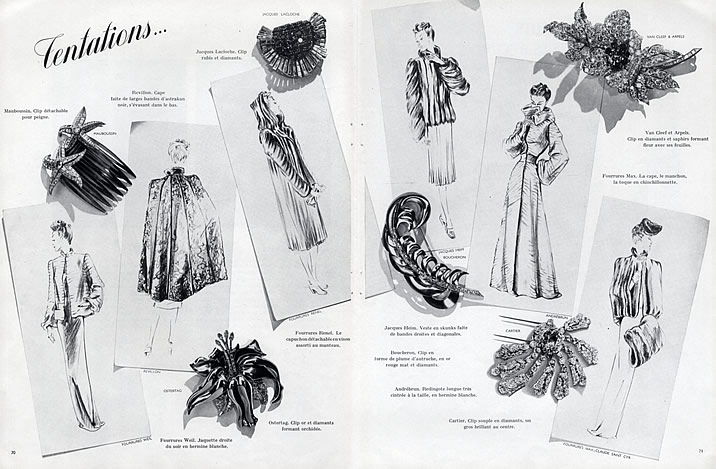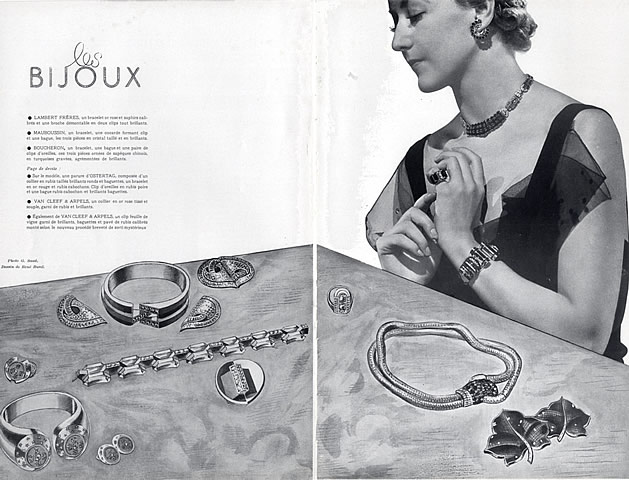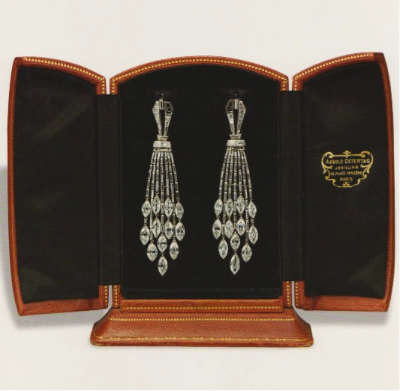 JAR
Born in New York City, the elusive jeweller and "Fabergé of our time", Joel Arthur Rosenthal grew up wanting to become a painter. He completed a degree in art history at Harvard before moving to Paris, working first in the movie industry before starting a needlepoint shop with his partner Pierre Jeannet. Hermès and Valentino were amongst their list of clientele, and his work with multi-coloured yarns would have an enduring effect on JAR designs.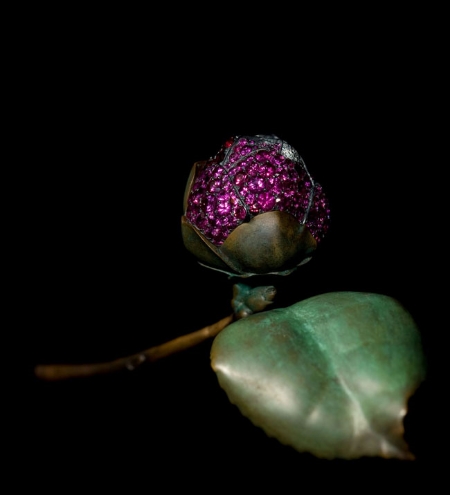 After working briefly with Gianni Bulgari in New York, Joel Rosenthal and Pierre Jeannet opened their salon in Place Vendôme in 1977 using just Rosenthal's initials J.A.R., creating superbly crafted and exquisite jewellery in inventive settings and gem-set in pavé arrangements as detailed and minute as needlepoint stitches, often contrasted against a blackened alloy mount. Only 60-80 pieces are produced a year in his workshops, with some pieces taking several years to complete. His jewels garner record prices at auction, and often sell several times over their auction estimates.
JAR jewels are highly sought after and worn by royalty, socialites and celebrities such as Princess Firyal of Jordan, Ellen Barkin, Elizabeth Taylor, Jo Carole Lauder and Marie-Josee Kravis. The JAR salon in Paris' Place Vendôme is highly discreet, with no signage, display window, and does not operate regular retail hours. The boutique only opens its doors to a select few and never advertises.
To date, two retrospective exhibitions of JAR jewels have been held. In 2002, at the Gilbert Collection at Somerset House in London and in 2013, at the Metropolitan Museum of Art in New York.
Suzanne Belperron
Born Madeleine Suzanne Vuillerme, Suzanne Belperron was one of the most influential jewellery designers of the 20th century. As a teenager, she studied drawing and jewellery at the École des Beaux-Arts before being hired by Jeanne Boivin as a model maker and designer at the House of Boivin in 1919. Soon after, the Maison began showcasing jewels based on sketches Belperron had made as a student. Rising quickly through the ranks, Belperron was made co-director of Maison Boivin at the age of 24.
In 1932, Belperron resigned and joined Bernard Herz, a renowned dealer of gemstones and pearls in Paris, who allowed her free reign to create jewels under the name of Herz-Belperron. She engaged Adrien Louart as her stonecutter and Groëné et Darde as her exclusive manufacturer. Belperron's genius and unique jewels continued to bring the maison and herself great fame.
She became a major influencer in the artistic and fashionable circles within Paris and internationally and her works were often featured together with pieces by Cartier, Boucheron and Van Cleef & Arpels in publications such as Vogue and Harper's Bazaar. Her wealthy and prominent clients included the Duchess of Windsor, Diana Vreeland, Colette, Mrs Solomon Guggenheim, Elsa Schiaparelli and Frank Sinatra. Bold and curvilinear, Belperron jewellery was vastly different to the mainstream Art Deco style that was linear, geometric and structured.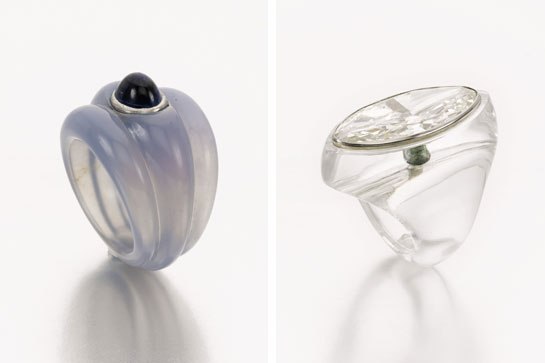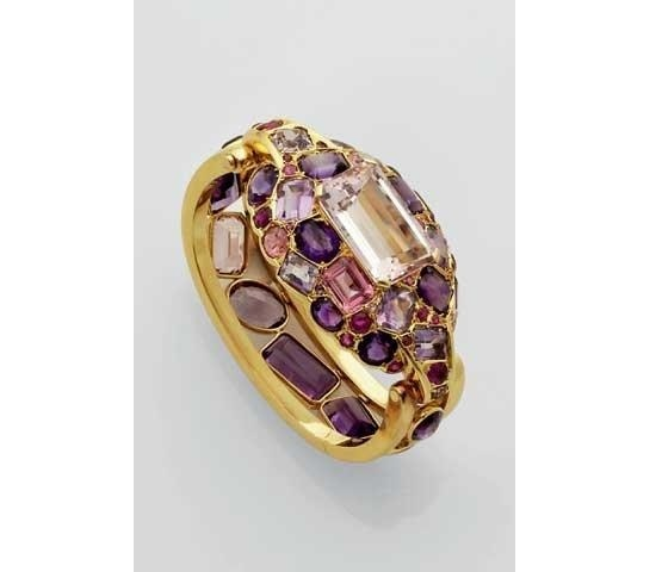 Her jewellery was so different that she chose not to sign her pieces, once quoting "my style is my signature".
Aside from pioneering the technique of setting precious stones into semiprecious materials, such as chalcedony, rock crystal, agate and smoky quartz, she also often selected 22 karat gold, for its colour, often adding texture to the gold through careful hammering and fine scratches to give the appearance of well developed patina. Belperron excelled in designing rings and was known to study and keep precise measurements of her client's fingers, wrist and neck. Highly bespoke, she would create jewels for clients based on their skin tone, facial structure and hand shape.